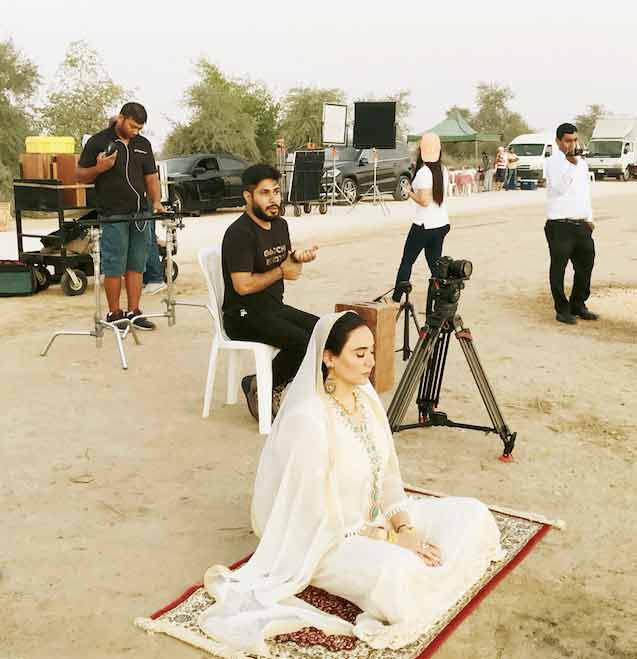 This month I have been enjoying some quality time back in my home in Dubai. I love to travel and connect with well wishers and family across the world, but there really is nothing like home.

When at home I often find myself slowing down, finding time to meditate and consequently being inspired in new creative directions. Recently I have been drawn to words and find myself keeping a regular practice of writing poetry. I am also working on my first novel, an exploration of familial power structures, societal pressures on young women and the Sikh faith in action. I'm working with an editor and find the process of revising drafts and crafting narratives under her guidance both fascinating and challenging in equal parts. I have to admit, writing a book is the hardest artistic pursuit I've ever attempted. I have a new-found respect for authors and the discipline as a whole. I do have a very clear vision in my minds-eye of what I want to say and honing that down, chapter by chapter, is a huge yet satisfying task indeed. All running to plan I should have a first draft by December and will be publishing my debut novel in 2018.
This month I have also been organising the pre-production for a music video I am shooting next week. I'm very happy to be working with Bombay-based director Mrinal Bahukhandi on this project. Mrinal shot the video for my track 'Aukhee Garhee' back in 2015. For this track, we are shooting in the epic Dubai desert. I'll update on the shoot in my next blog.
The charitable organisation, Kirtan For Causes, to which I donate all proceeds from my musical career has too been busy as ever. Very soon we will be posting a video update on the progress of Gurpreet Kaur, one of the very first children we financially supported through education and who is now studying at Chandigarh University. Seeing these disadvantaged children develop and grow into well-poised and established young professionals is one of the most rewarding feelings I have ever known. Just a few weeks back I received a Facebook message from another Kirtan for Causes graduate, Nishan Gil. Nishan now works in Dubai as an IT Support Engineer and had contacted me to offer thanks for the support offered to him by the charity throughout his youth. We met with him and are so proud of how far he has come! It was exciting to catch up and hear about his career and life in Dubai.
I mentioned in a recent blog that I have become an ambassador for Binti, a charity with a mission to bring menstrual dignity to every girl and woman the world over. They do this by providing access to education about menstruation, access to pads and engendering freedom from stigmas and taboos surrounding menstruation. On my next visit to rural Punjab, where Kirtan for Causes concentrates its work, I will be consulting with the local female community to discuss what we can do in that area to improve conditions and materials for women on their periods. Binti will be providing me with resources and information to structure this conversation and offer some suggestions as to positive steps that can be taken to effect real change. Aside from the psychological harm that a taboo around the entirely natural process of monthly bleeding can have, there are serious health concerns over poor sanitary practice that desperately need to be addressed. Our work is never done. Please visit the manikamusic.comwebsite to find out more about what we have been upto.
Waheguru ji