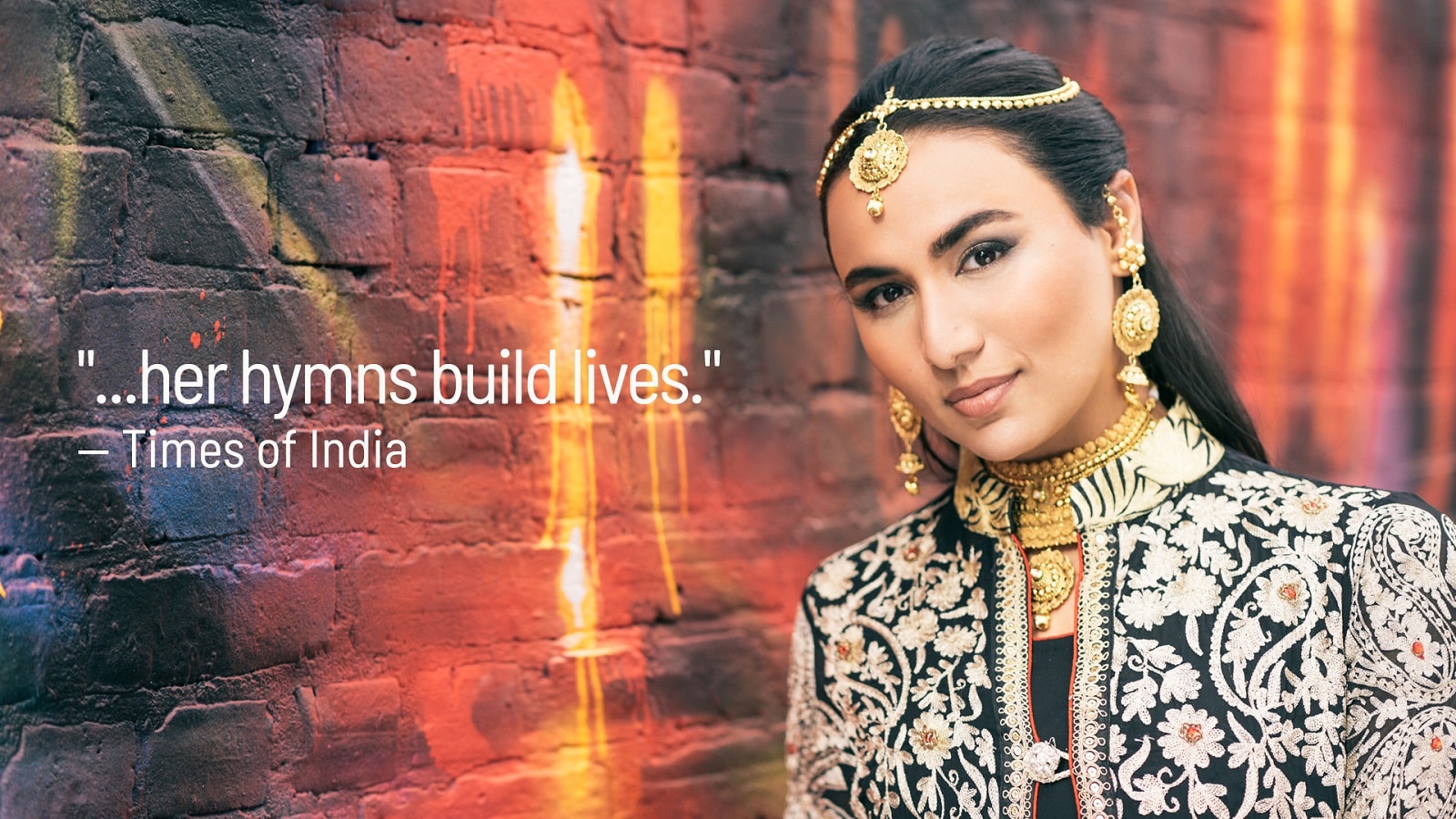 About Manika
Manika Kaur: the leading contemporary performer of Sikh 'Kirtan' music. Manika Kaur continues to be the fastest selling and most popular contemporary Sikh solo artist in the world. As the very first person to place Kirtan in the European World Music Charts and views of her videos running in to the many millions, Manika's music has not only received overwhelming praise from the global Sikh community, but has also transcended and touched the souls of music lovers from all walks of life throughout the world.
The amazing Singh Twins have been commissioned to create new artwork for the release which will also be available as a vinyl.
"Manika Kaur should be known as 'Magic' Kaur because there is pure magic in her voice"
(Urban Asian USA)
In April 2021, Six Degrees Records will release 'EK', a brand-new album from Manika Kaur. The music on 'EK' (meaning 'Oneness'), remains true to the venerated traditions of Kirtan and features some of the rarest instruments in the world, performed by the very best (and some of the only) remaining players of each. Every song on the album leads with one of these different and specific instruments accompanying Manika Kaur's vocal, in order to showcase each item and to enhance the overall essence of the work. The traditional elements of the music are then combined with modern sounds, created by some of London's most renowned music producers. This precarious balance has been handled with great care in order to ensure that neither factor outweighs the other – the result is a unique piece of art, as hypnotic as it is mesmerising.
"The best religious music doesn't proselytize. Rather, it enraptures you in its beauty, showing the strength of its convictions without forcing you into its grasp—it invites you into communion with it, no matter your walk of life"
(Pop Matters USA)
2020 saw the release of 2 special albums with renowned producer Martin 'Youth' Glover who has remixed Manika's work to create Journey – The Ambient Mixes and Yoga Ambient Remixes. Youth has also painted the album cover. Kaur's third album 'Sacred Words' (2018) was able to highlight both her music and culture to a wide range of demographics across the UK and internationally, while simultaneously attracting attention to the varied charitable endeavours of which she is a patron.
Growing up, Manika's family would passionately spread the teachings of Sikh founder Guru Nanak Dev Ji far and wide. Her deeply spiritual connection to the Guru's wisdom is reflected in her music, with Manika able to channel her devotion to these divine teachings through mesmerising vocal ability. Kaur is one of the only standard bearers of the tradition to reinterpret, record and perform these sacred chants beyond Sikh 'Gurdwara' temples, reaching a whole new global audience. Moreover, she is one of the only female proponents of Kirtan, again providing a new and unique perspective to the much-revered genre.
Manika Kaur has made multiple appearances on BBC Television, performing live on The Saturday Show and being interviewed on the BBC News channel. She has also shared her words of wisdom on the coveted 'Pause For Thought' segment on BBC Radio 2, as well as being featured on their flagship religious show 'Good Morning Sunday'. World music magazine Songlines have described Manika's music as having "emotive melodies that beautifully articulate the poetry she sings so hauntingly", while Rhythm Passport spoke of Manika's voice as "rich and luxuriating, coloured deep with the contours of her gentle, echoing tone."
Kaur's also penned her first children's book due out next year and is currently developing her spiritual music app.
What is remarkable about this artist is that she donates all her profits to Kirtan for Causes, a charity she started to change the lives of impoverished children in Punjab with a special focus on education. Manika's work includes schooling (she personally sponsors the education of over two hundred children), building houses, providing books, laptops, phone, solar lights and meeting the needs of the most vulnerable. Kaur's work also shines a spotlight on the epidemic of farmer suicide, drug abuse and female infanticide in Punjab.
Manika also works with organisations such as Binti, an international organisation focused on eradicating period poverty. And Rainbow Schools who are currently building a centre in Punjab as a safe haven for the elderly, orphans, those suffering with disabilities and women and children with mental health conditions. Kaur is always looking for ways to spread love; whether it's through her kirtan or charity work she wants hers to be a legacy of love.
The amazing Singh Twins have created a special artwork for the Ek album.