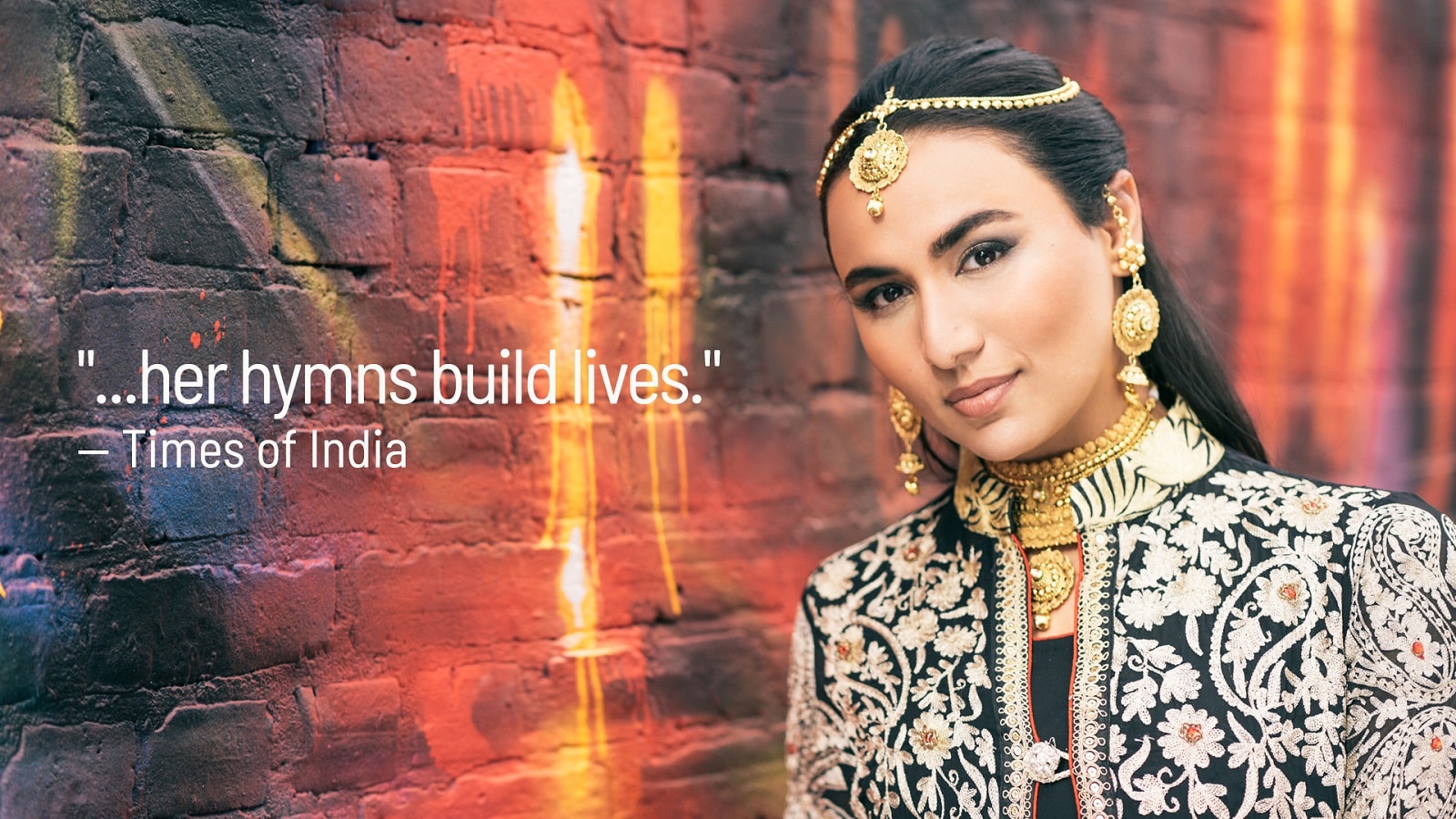 About Manika
Australian born kirtan artist Manika Kaur has been breaking stereotypes and pushing boundaries in the male dominated, traditional world of kirtan with her new sound reaching a wider audience. Since her debut album Bandhanaa in 2008, produced by legendary Bhangra star Sukhbir Singh, Kaur has become the fastest-selling contemporary Sikh solo artist in the world, pioneering a new era with many following her lead.
Kaur received several awards for her work including the Sikhs in Entertainment Award in 2016 at The Sikh Awards. Manika's fresh take on kirtan and the potential for mass appeal was demonstrated when her album raised over 300,000 pounds for charity. In addition, Manika's music has made a huge impression on the World Music Charts for Europe, amassing over 11 million YouTube views.
"Manika Kaur should be known as 'Magic' Kaur because there is pure magic in her voice"
(Urban Asian USA)
Manika has dedicated herself to re-imagining and introducing the world to the beauty of the sacred Sikh musical form, kirtan, most notably with renowned hand shadowgraph artist Amar Sen on her video dedicated to Guru Ram Das in 2012 which also won best short film the following year at the prestigious Sikhlens (Sikh Arts and Film Festival SAFF) in California. In 2014, Bandhanaa was released by US label Invincible Recordings as Satnam Waheguru.
"The best religious music doesn't proselytize. Rather, it enraptures you in its beauty, showing the strength of its convictions without forcing you into its grasp—it invites you into communion with it, no matter your walk of life"
(Pop Matters USA)
2015's I Bow To You Waheguru, collaboration between Manika, the inimitable, Talvin Singh OBE and Jyotsna Srikanth received rave reviews by Popmatters USA who praised, "The best religious music doesn't proselytize. Rather, it enraptures you in its beauty, showing the strength of its conviction with it, no matter your walk of life." A sold out London debut concert at the Union Chapel, Islington and invitations to perform around the world followed. Her immense support features across social and international mainstream media and she is a constant feature on Sikh Networks, BBC Radio and television as well as ABC Australia and more.
Manika Kaur's third album, Sacred Words 2018 represents her most diverse and very best work to date, featuring collaborations with Scottish folk musician James Yorkston (Guitar/Dulcimer) Jyotsna Srikanth (Violin) and Tunde Jegede (Kora). The album was picked up by producer / bassist Martin 'Youth' Glover's (Killing Joke, Verve, Kate Bush and many more) for his new imprint label, Suriya Recordings/ Six Degrees. The tracks are produced and mixed by Talvin Singh, Punjabi-Glaswegian artists TigerStyle, Oskar Vizan and Youth. The result is an album that is a genuine force to be reckoned with. The album has received worldwide accolades from press since its release.
Kaur moved to London in 2019 shortly after giving birth to twins, her three children inspired Kaur to create a new imprint The Baby Nanak Project which will focus on value based learning through videos, songs, books, articles and kirtan for children. Manika's fourth album which features some of the world's leading Indian instrumentalist is set to release in 2020, Kaur recorded this album while pregnant with her twins. Kaur's also penned her first children's book due out next year.
2020 will also see the release of a special album with renowned producer Youth who has remixed Manika's work to create Journey – The Ambient Mixes. Youth has also painted the album cover, which will be available in vinyl. Currently Manika is composing a kirtan yoga album to be recorded with Youth and released in 2021 extending the reach of Manika's music to new genres and audiences.
What is remarkable about this artist is that she donates all her profits to Kirtan for Causes, a charity she started to change the lives of impoverished children in Punjab with a special focus on education. Manika's work includes schooling (she personally sponsors the education of over two hundred children), building houses, providing books, laptops, phone, solar lights and meeting the needs of the most vulnerable. Kaur's work also shines a spotlight on the epidemic of farmer suicide, drug abuse and female infanticide in Punjab.
Manika also works with organisations such as Binti, an international organisation focused on eradicating period poverty. And Rainbow Schools who are currently building a centre in Punjab as a safe haven for the elderly, orphans, those suffering with disabilities and women and children with mental health conditions. Kaur is always looking for ways to spread love; whether it's through her kirtan or charity work she wants hers to be a legacy of love.