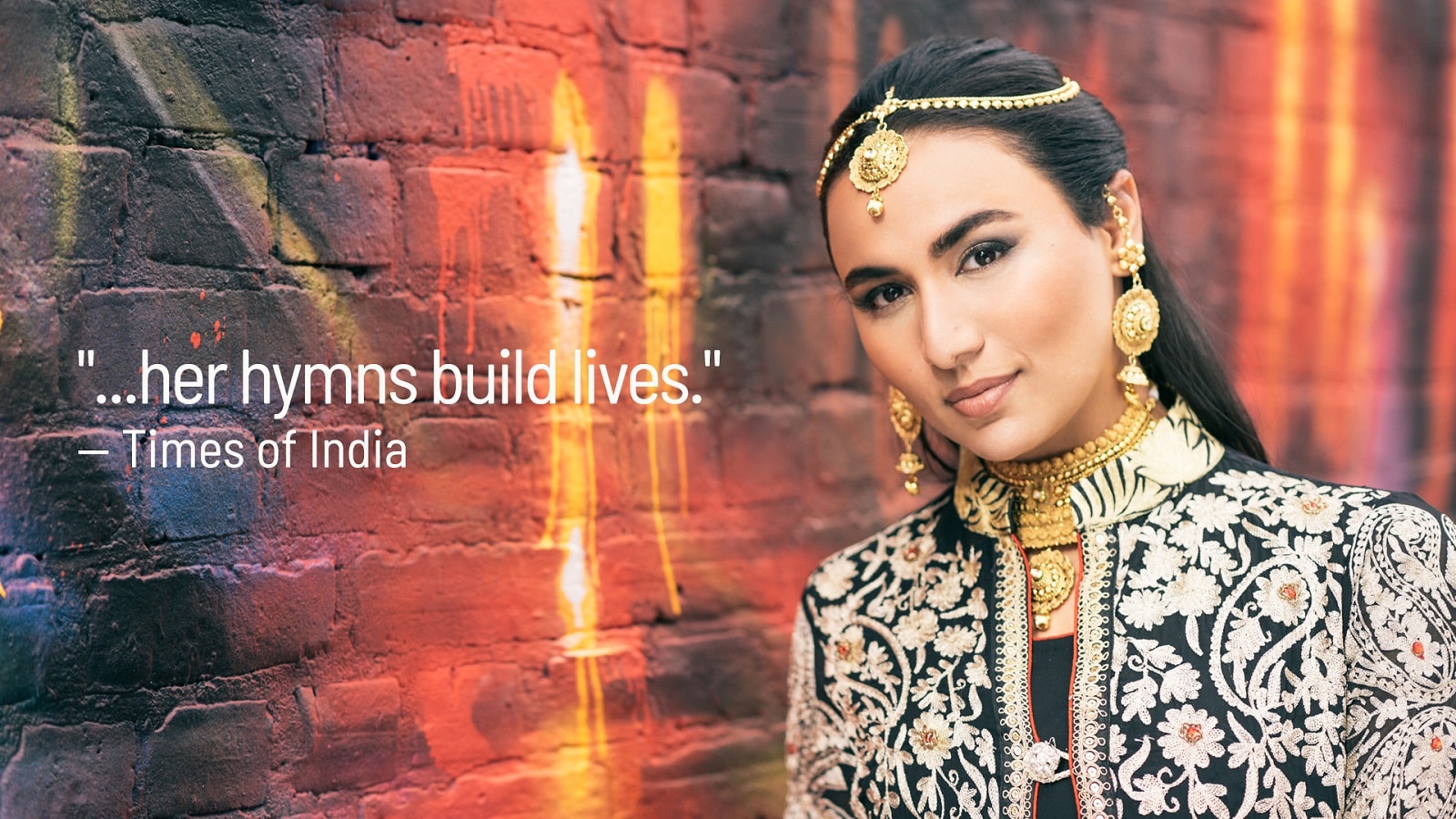 About Manika
In a musical career of just five years Manika Kaur has become the fastest-selling contemporary Sikh solo artist in the world. From debut album Bandhanaa in 2013, the result of Prayer room based home recordings with legendary Bhangra star Sukhbir Singh, to winning the Sikhs in Entertainment Award in 2016, the spiritual and potential for mass appeal of this music has been demonstrated by this remarkable artist. Created to raise funds for the building of the Gurdwara Temple in Dubai, the album has made a massive impact, raising over 1 million dhirams. In addition, Manika's Kirtan recordings have made a huge impression on the World Music Charts for Europe, amassing over 11 million YouTube views.
"Manika Kaur should be known as 'Magic' Kaur because there is pure magic in her voice"
(Urban Asian USA)
Born in Melbourne into a profoundly spiritual family environment, devoted to the teachings of Guru Nanak Dev ji, Holy Scriptures were often delivered to and distributed from her home, accompanied by song. In this way, the roots and resonances of her music along with her philosophy and philanthropy were effortlessly combined. Obsessed by singing, Manika learnt the discipline necessary for the delivery of these sacred texts and through the writing of complimentary original poetry, developed a purity of form and response that has led to her current distinction as one of the only women to perform such music in public. Her writerly achievements have led to the publication of her online poems such as We are Love (400,000 views and counting) and her heartfelt tribute to Punjab in her spoken word video titled Dear Punjab, I'm Sorry. Kaur is set to release a children's book in 2020 along with a new kirtan album for children, Manika is also currently writing her first novel which brings beautiful Sikh stories into a modern and complicated setting.
"The best religious music doesn't proselytize. Rather, it enraptures you in its beauty, showing the strength of its convictions without forcing you into its grasp—it invites you into communion with it, no matter your walk of life"
(Pop Matters USA)
Manika has worked with a number of Western producers on English recordings but after winning a Dubai based competition for composition in 2008 she has dedicated herself to re-imagining and introducing the world to the beauty of the sacred Sikh musical form, kirtan, most notably with Amar Sen on the award winning video Gur Ram Das in 2012, which used a range of theatrical and filmic devices to promote the penning of holy texts and scripture, along with the founding of Amritsar across a global stage. In 2014, Bandhanaa was re-mixed and released as by US label Invincible Recordings as Satnam Waheguru.
2015's I Bow To You Waheguru, a collaboration between Manika, the inimitable, Talvin Singh OBE and leading musicians, Jyotsna Srikanth, Soumik Datta, Rakesh Chaurasia, Bernhard Schimpelsberger and Reiner Erlings received rave reviews in Songlines Magazine who praised her 'emotive melodies and haunting poetry 'and led to a sold out London debut at the Union Chapel, Islington and invitations to perform gurdwara's around the world. Her immense support features across social and international mainstream media and she is a constant feature on the Sikh Network, BBC Radio and ABC Australia and more.
Manika Kaur gave an emotional speech in front 25,000 people at the 1984 Remembrance Freedom Rally, Trafalgar Square, London on Sunday 4th, June 2017.
Moreover, Manika is a staunch champion of women's rights, raising both funds and awareness for a huge range of issues: from equality and education of females of all ages around the world, to global access to feminine hygiene products.
Manika Kaur's third album, Sacred Words represents her most diverse and very best work to date, featuring collaborations with Scottish folk musician James Yorkston (Guitar/Dulcimer) Jyotsna Srikanth (Violin) and Tunde Jegede (Kora). The album was picked up by producer / bassist Martin 'Youth' Glover's (Killing Joke, Verve, Kate Bush and many more) for his new imprint label, Suriya Recordings. The tracks are produced and mixed by Talvin Singh, Punjabi-Glaswegian artists TigerStyle, Oskar Vizan and Youth. The result is an album that is a genuine force to be reckoned with. The album has received amazing worldwide accolades from press since its release and a pivotal interview with BBC World News that recognise Kaur as a "YouTube star" and praised her impressive charitable mission.
Though wholeheartedly enjoyable on the strength of their sound alone, these beautiful and hypnotic renditions are only enhanced by the fact that they will be used as a positive humanitarian force, changing lives of those in need while spreading a pure and sincere message of generosity and love.
Manika's philanthropy is her dual passion. She tirelessly campaigns for the eradication of poverty in rural Punjab via her organisation Kirtan for Causes; work includes schooling and building homes. All albums and concerts profits are donated directly to this charity, and she personally sponsors and educates over 200 children. Manika's humanitarian work has recently been recognized by another philanthropic award.
Manika's belief is that only though education a child can find a way to change their life.
Manika is a mother of 3 children, who inspire her work and is set to release a new kirtan album, songs especially for young children and her first book for children in 2019.