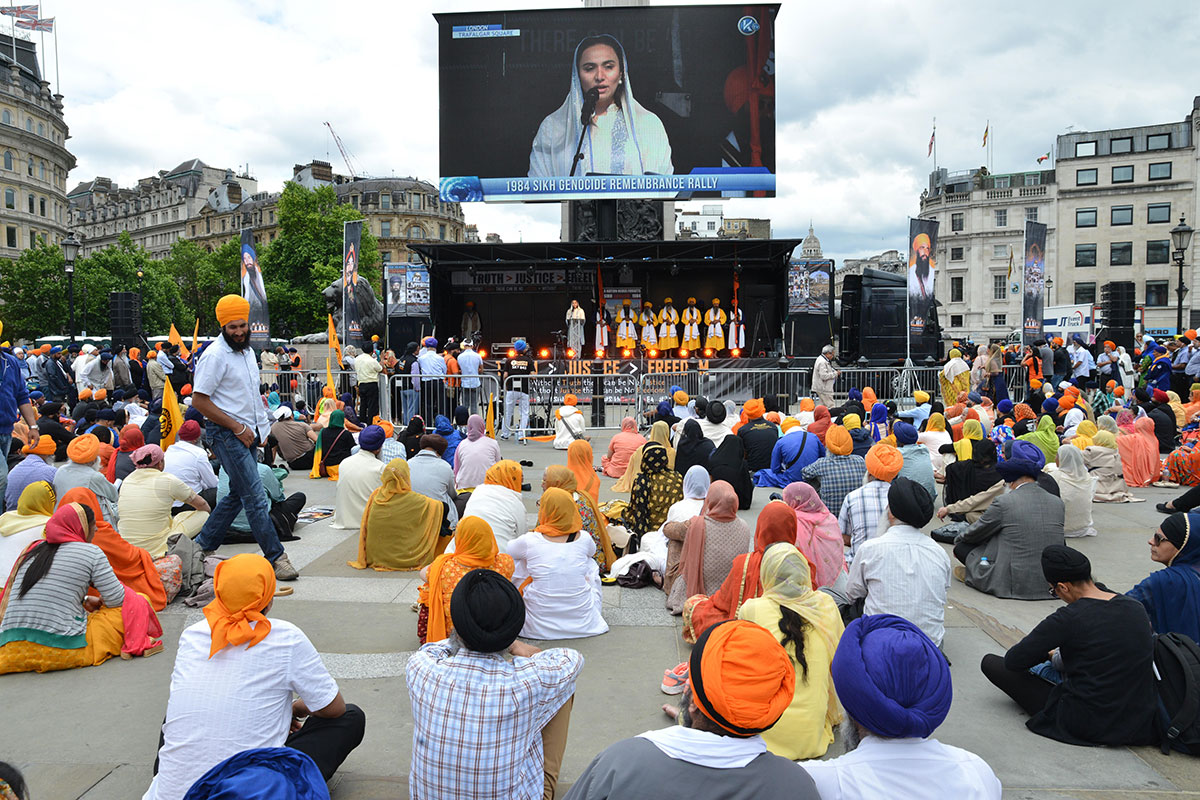 This month I travelled to London to perform and speak at the Sikh Genocide Remembrance Rally on the 4th June in Trafalgar Square. The night before London Bridge, which is just down the road from planned rally location, was the subject of a horrific terror attack which saw over eight people murdered and many more critically injured. The Sunday morning had a sombre tone and organisers of the rally decided to cancel the marching element of the event in order to reduce strain on the city's emergency services. Despite the attacks there were still some 25,000 people in attendance at Trafalgar Square showing their support for the U.K's Sikh community and all those affected by the 1984 genocide.
The sun shone down on London on the 4th June 2017 and the day unfolded be a poignant one indeed. My stage time was 14:30 and I felt calm before I went on. I whispered myself a prayer and let go of any fear before performing a short musical set. With each performance, I feel increasingly in control of my nerves and able to focus on the task at hand: promoting the work of my chosen charities by singing sacred kirtan.
On this occasion I also delivered a speech after my performance. I spoke for ten minutes on the events of 1984 in India but also tackled the present-day issues facing Sikh communities in rural Punjab. I implored those in attendance to take action and support young children facing issues of addiction, abandonment and insidious poverty today. To turn and look the other way really is a moral crime of great proportions. Our generation must act now to save the next. As ever I directed people to the website for www.educatetosave.com and www.manikamusic.com where anyone can financially sponsor a child through education.
You can watch my speech below which now has reached over 87,000 views on Facebook – I'm truly humbled.
Through my performance I hoped to underline how kirtan is non-denominational and is an act of meditation that can be enjoyed by those from all walks of life. Stilling the mind in today's ever busy world is not only a blessing but an essential survival skill.  If I can spread the joy of kirtan to at least once audience member, I know my work is worthwhile.
After the rally I zoomed over to BBC Radio London for an interview which went out on air the following week. I also manged to squeeze in the shooting of some video edits for the next Kirtan For Causes information and promotional video before travelling back home to Dubai. It was a short trip this time, but London… I'll be back soon